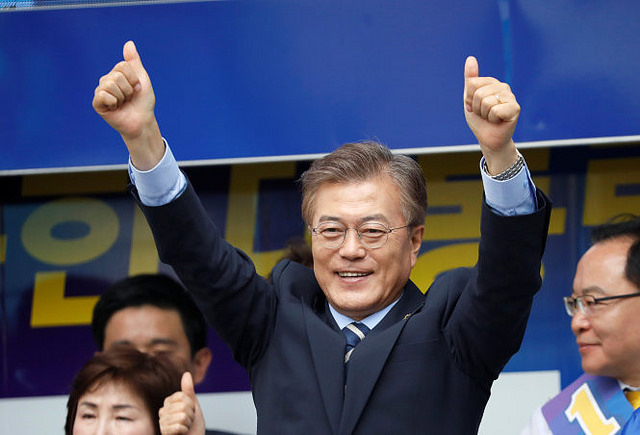 By Bill Lee
How can countries persuade other countries to do what they want? The recent election in South Korea of Moon Jae-in as president will provide an interesting case study to answer that question. An activist-lawyer, Moon follows in the line of South Korea's two past progressive presidents, Kim Tae-chung and Roh Moo-hyun. Although a liberal, Moon will likely find it difficult to reverse many of the policies of the last decade of South Korea's conservative governance and promote progressive-like social welfare programs because of various constraints on him. For one, Moon won only a little over 42 percent of the vote, hardly an overwhelming vote of bedrock support. Moreover, according to South Korean law, he cannot even be certain of his Cabinet nominations since they must be approved by the national legislature.
First, Japan is keenly interested in which way Moon will turn in Japan-ROK relations. The previous progressive presidents, Kim Tae-chung and Roh Moo-hyun, took different stances towards Tokyo. Kim was conciliatory, willing to partially shelve the history problem; indeed, he proposed the joint study by both countries into the reading of their past history. Roh was more hardline, particularly regarding the sex-slave problem. The question is which tack Moon will take. Moon has called for a renegotiation of the sex-slave agreement between Seoul and Tokyo, but will he stick to that line? His position, now that he is president, is fluid, and it will be interesting to see how Tokyo can persuade him to keep the agreement and defuse the situation.
China will naturally also have its sights set on the Moon administration. The big issue is the land-based missile defense THAAD system, whose deployment in South Korea has enraged Beijing. China sees THAAD not as a deterrence against North Korea but as a threat to its own missile launch capability since its X-band radars could peer 2,000 kilometers into China. Beijing reacted by laying unofficial sanctions on South Korean goods and companies, calling for boycotts of South Korean products and tours to South Korea by Chinese citizens. Thus China has levied sanctions on both North and South Korea. Xi Jinping clearly dislikes Kim Jong Un. Could Pyongyang end up believing that it needs its nuclear arsenal not for defense against the United States but against China? Is that too farfetched? Moreover, with China's sanctions and anger over the THAAD deployment, could Seoul actually begin to see THAAD as a deterrence not against North Korea but against China? In other words, could this be a trigger for Korean unification?
Kan Kimura, a professor at Kobe University and an expert on Korean Peninsular affairs, has pointed out in various articles that before activists of Moon Jae-in's generation were "leftists," they were "ethno-nationalists" who wanted to unify the two Koreas. Moon is reportedly keen to restart dialogue with Pyongyang. Kim Tae-chung of course launched the conciliatory Sunshine Policy towards North Korea. Two envoys that Moon sent to Japan and China are both former Kim Tae-chung associates. Will Moon's "ethno-nationalist" blood heat up or at least soak in more sunshine?
How will China try to persuade South Korea to drop THAAD, by heavy-handed pressure and sanctions, or more diplomatic means? The future direction of the Korean Peninsula could depend on it.
Leave a comment.
Photo by Startup Digital via Flickr