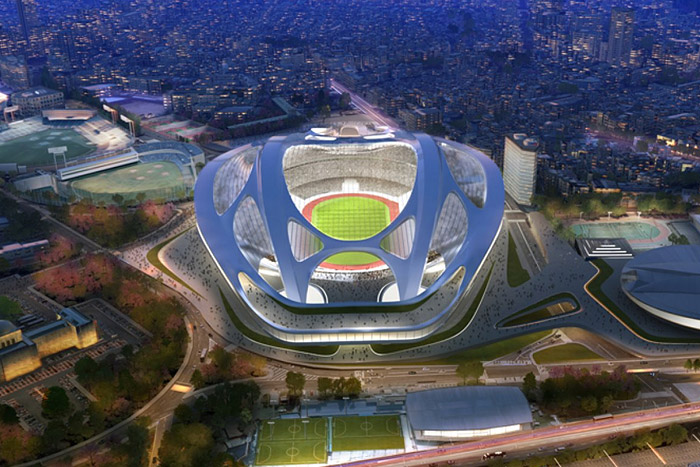 (Olympic Stadium Tokyo 2020 Z. Hadid Architects)
The 2020 Summer Olympic Games are on track and moving forward. Here are a few links to stories of interest about the games as of April, 2015.
 Shibuya Ward hopes to redevelop Miyashita Park in time for Olympics. Hurdles include resettling homeless, corporate sponsorship and zoning regulations.
http://www.japantimes.co.jp/community/2015/04/01/issues/battle-shibuya-park-heats-tokyo-olympics-loom/#.VS-jRFwdL8s
 Renowned golf course architect Tom Fazio to re-design Tokyo course for Olympics.
http://www.golf.com/tour-and-news/tom-fazio-chosen-redesign-tokyos-kasumigaseki-course-2020-olympics
Former PM Mori resigns from Japan Rugby Football Union post due to ill health, but will stay on with Tokyo Olympics organizing committee
http://www.japantimes.co.jp/sports/2015/04/06/more-sports/rugby/tokyo-2020-chief-mori-step-jrfu-president/#.VS-mV1wdL8s
BBC Reports on NHK Super-8K technology for 2020 games
http://www.bbc.com/news/technology-29789468
 Do you have any thoughts on the 220 Tokyo games? Log in a let us know what's on your mind.