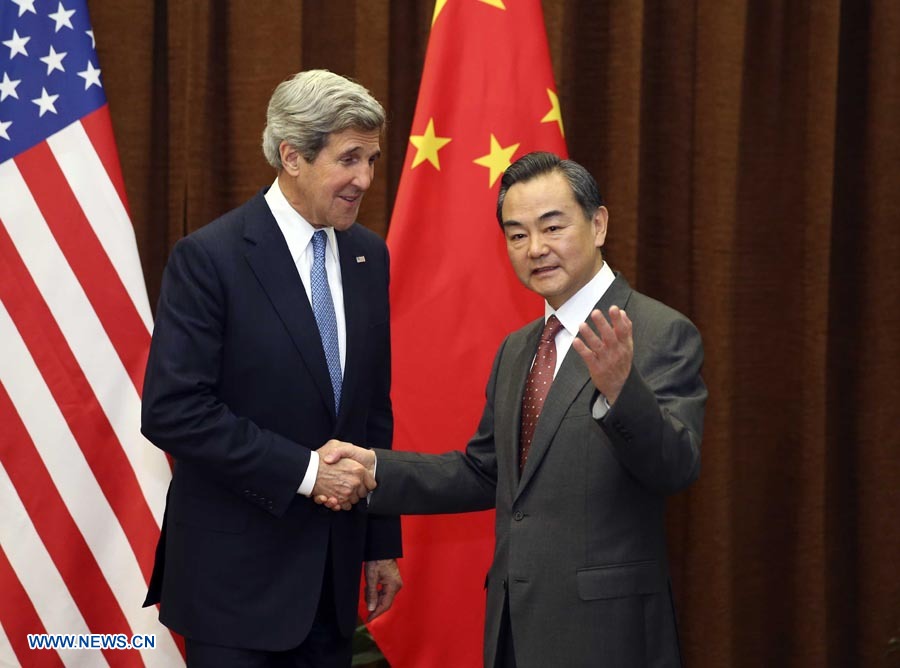 "I have come to the United States to implement the agreement reached between our top leaders to strengthen the mutually beneficial cooperation between our two countries to enhance the China-U.S. friendship"  China FM, Wang Yi
Chinese Foreign Minister Wang Yi met with the top U.S. leadership on Friday 19 September 2013 including Vice President Joe Biden and U.S. Secretary of State John Kerry. Wang also met with U.S. National Security Advisor Susan Rice, Senate Minority Leader Mitch McConnell and House Foreign Affairs Committee Chair Ed Royce.
In remarks before their meeting, Kerry welcomed Wang back to the U.S., noting that he had been at Georgetown University 15 years before as a visiting scholar. Kerry added:
"China and the United States have also agreed to a new model of relations, and that was worked on and announced at the Sunnylands summit with our presidents. It is based on practical cooperation and constructive management of differences. We recognized the need to avoid falling into a trap of seeing one another as strategic rivals, and that recognition is now driving our partnership on issues from climate change to wildlife trafficking to military consultations and the promotion of balanced growth around the world."
 In his own remarks, the Foreign Minister touched upon the key point to be covered from the Chinese side:
"At the same time, we are also ready to have in-depth communication with the United States with an open mind on those issues, including Syria, issues on the Korean Peninsula, climate change, and cyber security. We also want to discuss with the United States the relevant issues in the Asia-Pacific region, to work with the U.S. side for sound interaction in the Asia-Pacific between our two countries."
 In addition to the pressing Syria question, the de-nuclearization of the Korean peninsula and the re-starting of Six Party talks were on the agenda.
 http://www.state.gov/secretary/remarks/2013/09/214419.htm