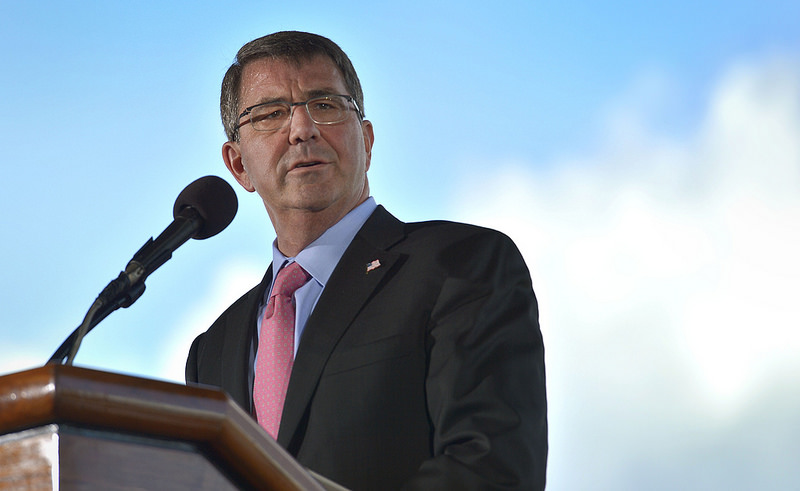 U.S. Secretary of Defense Ash Carter in Hawaii ( SOD via flickr)
                             by David Parmer
For the second time in less than a week, a high U.S. government official has sent a blunt message to China about U.S. intentions in the Pacific. On May 27, at a change-of-command ceremony at Pearl Harbor, Hawaii,  U.S. Secretary of Defense Ash Carter echoed the same kind of tough talk that U.S. Vice President Joe Biden had engaged in less than a week earlier at the U.S. Naval Academy.
 Carter's speech echoed Biden's in that he addressed the occasion at hand, congratulated the admirals involved, talked of their service and achievements, and then gave the same message/warning to China that Biden had done. He said that the U.S wants peaceful resolution to all disputes, but that it would not budge on what it considers its rights in international waters.
 First, we want a peaceful resolution of all disputes, and an immediate and lasting halt to land reclamation by any claimant. We also oppose any further militarization of disputed features.
Second – and there should be no mistake, should be no mistake about this – the United States will fly, sail, and operate wherever international law allows, as we do all around the world.
Finally, with its actions in the South China Sea, China is out of step with both international norms that underscore the Asia-Pacific's security architecture, and the regional consensus in favor of a non-coercive approach to this and other long-standing disputes.
China's actions are bringing countries in the region together in new ways. And they're increasing demand for American engagement in the Asia-Pacific, and we're going to meet it. We will remain the principal security power in the Asia-Pacific for decades to come.
 To underscore the points he outlined in Hawaii, Secretary of Defense Carter repeated them and elaborated on the theme in his speech at the IISS Shangra La Dialogue in Singapore on May 30. One might ask why the Obama administration is having two of its highest level officials delivering the same message. One reason might simply be to clearly state U.S. resolve to the American people, and to U.S. allies in the Pacific region. The other is to show U.S. resolve to a rising China, and put China on notice that the U.S. is still very much a world power and player in the Pacific. A final reason that can always be considered is domestic politics. A strong policy in the Pacific and a tough stance toward China might pre-empt any attempt by Republicans to paint the Democrats as "weak" on China in the coming presidential election.
 Secretary Ash Carter's Hawaii Speech May 27, 2015
http://www.defense.gov/Speeches/Speech.aspx?SpeechID=1944
Secretary  Ash Carter's Singapore Speech May 30, 2015
https://www.iiss.org/-/media/Documents/Events/Shangri-La%20Dialogue/SLD15/Carter.pdf
Chinese Response to Carter at Annapolis
http://news.xinhuanet.com/english/2015-05/29/c_134282034.htm