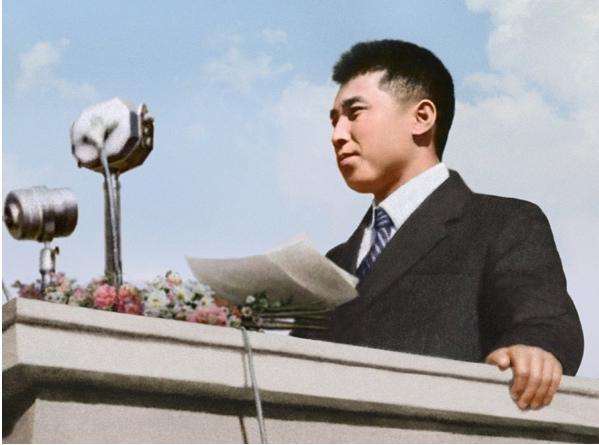 Kim Il Sung 1945 (Photo: Rodong Shinmun)
This year marks the 70th anniversary of Korea's liberation from Japanese rule and the end of WWII. In the North, August 15th is celebrated as National Liberation Day. So far there seems to be no great attention to this year's 70th anniversary. Neither the Korean Central News Agency's English website or the Rodong Shinmun's online English edition mentions any special celebrations to mark the anniversary. Moreover, the DPRK leader Kim Jong-un sent his regrets in being unable to attend the ceremony in Moscow this past May 9th to mark the victory in the Great Patriotic War.
Why does Korea (both North and South) see this year's anniversary as not worthy of a grand celebration?  In an article in New Eastern Outlook, Konstantin Asmolov offers some reasons why the South Korean President, Park Geun-hye did not attend the May 9th celebrations either. As the same time he suggests that both Koreas feel that they were not active participants in their own liberation; Japan having surrendered, Soviet troops invaded from the north, and a few weeks later US troops occupied the south.   
Coming up is the annual August 15th celebrations in both countries to commemorate their liberation from colonial rule. Will these ceremonies be bigger in any way, or special in any way? Will representatives from both Koreas, or the leaders themselves attend China's special holiday this coming September 3 to mark the 70th anniversary of the end of the war?  What are your thoughts on this matter? Please log in and let us know.
 Near Eastern Outlook 
http://journal-neo.org/2015/05/03/rus-k-otmene-vizita-pak-ky-n-he-na-prazdnovanie-70-letiya-pobedy-nad-fashizmom/