"Embrace Change, Change is the Best Plan"
   (Alibaba Chairman Ma Yun at Stanford)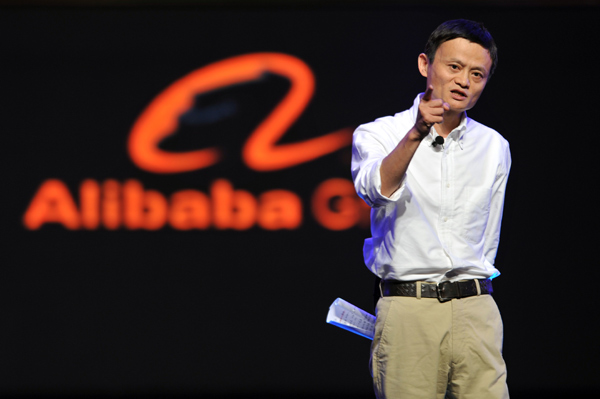 (Photo: China.org.cn)
                         by David Parmer
 Jack Ma the founder and CEO of China's biggest e-commerce company says he doesn't understand technology, but he respects those who do. But this is not to say Jack Ma doesn't get the big picture. In fact he had the big Internet picture in his mind long before a lot of people in China did. In 1999 he founded what is now China's biggest e-commerce (B to B) company, Alibaba which boasts 79 million members in 240 countries. In 2003 Ma founded Taobao, (C2C) an online Chinese language (now with English pages) website for online shopping similar to eBay and Amazon. Taobao is reported to be the 13th most popular website in the world.
Forbes magazine estimates Ma's net worth to be USD$3.4B, and ranks him 395th in its list of billionaires. Born on September 4, 1964 in Hangzhou, Zheijiang Province, he graduated from Hangzhou Normal University in 1988 with a degree in English, later lecturing in English and International Trade at Hangzhou Dianzi University. In 1995 he founded China Yellow Pages, one of China's first Internet companies. He followed this up with Alibaba in 1999, and Taobao in 2003.
 In 2009 Jack Ma became a Trustee of the Nature Conservancy's China program. Besides being involved in several environmental initiatives, Alibaba also bans all product postings on its website related to shark's fins, ivory, bear bile and products made from endangered animals.
 On May 10, 2013, the tenth anniversary of the founding of Taobao, Jack Ma retired as CEO of Alibaba, stating that he is "too old" to run an Internet company. He is now Chairman of the Alibaba group which is said to be heading for a restructuring of Alibaba, the first and most comprehensive since its founding in 1999. Rumors of an Alibaba IPO by 2015 are also prevalent.
 Jack Ma at Stanford (Chinese w/English subtitles) http://www.youtube.com/watch?v=4QV1xjGfE2M