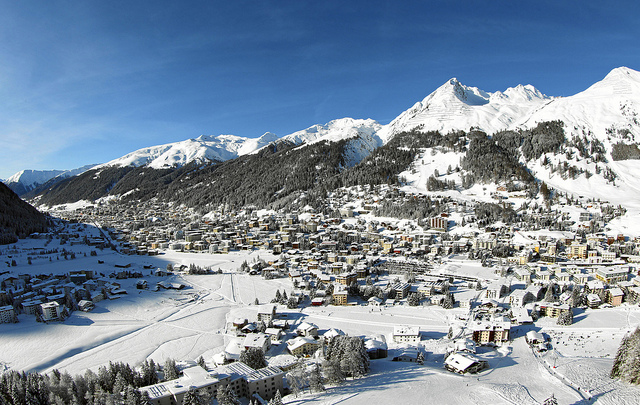 Davos-Klosters Switzerland (WEF)
It's January again, and from the 21st to the 24th of the month, business, political and social leaders will be in Davos-Klosters Switzerland for the annual meeting of the World Economic Forum. This has been going on since 1971 when Klaus Schwab, Professor of Business Policy at the University of Geneva, chaired the first event. Now it is enough to  simply say "Davos" to conjure up images of leaders from a broad spectrum of fields meeting in an idyllic Swiss resort.
On its website the WEF describes it simply as "the world's foremost multistakeholder community of leaders."  These include:
CEOs
Political Leaders
Heads of International Organizations
Young Global Leaders
Social Entrepreneurs
Technology Pioneers
Media Leaders Spiritual and Cultural Leaders
 Political leaders attending will include Ahmet Davutoglu, Prime Minister, Beji Caid Essebsi, President of Tunisia, Francois Hollande, President of France, Li Keqiang, Prime Minister of the People's Republic of China, Angela Merkel, Federal Chancellor of Germany, John Kerry, US Secretary of State, Matteo Renzi Prime Minister of Italy and Jacob Zuma, President of South Africa, among others.
 The theme for the 2015 meeting will be the "New Global Context" which will focus on ongoing issues including:
Growth and Stability
Crisis and Cooperation
Society and Security
Innovation and Industry
  One of the key concepts of the event is for leaders from different disciplines and domains to meet, network and exchange ideas. A ticket to Davos costs a reported $70,000 which gives the ticket holder admission to 250+ sessions in the busy, four-day event. For the rest of us, 100 of the high-powered sessions will be broadcast online. 
Video: Professor Klaus Schwab on Davos 2015
https://agenda.weforum.org/2015/01/video-professor-klaus-schwab-on-davos-2015/