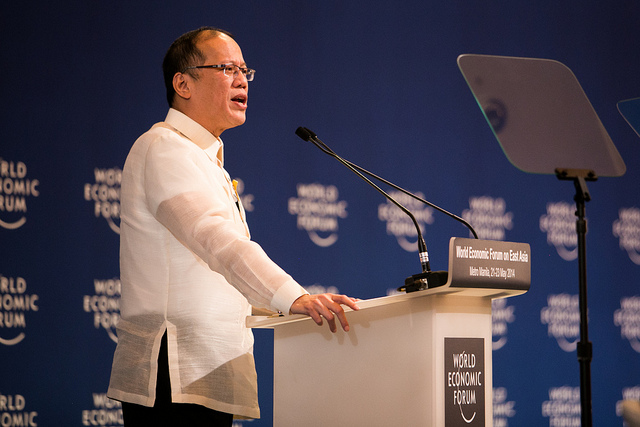 Phillipines President Benigno Aquino III (Photo: WEF)
Benigno Aquino III was inaugurated on June 30th, 2010 as President of The Philippines. 2015 marks the fifth year is his single, six year term. This past week saw the President in Tokyo, meeting Japanese Prime Minister Shinzo Abe and discussing closer military ties with Japan aimed at thwarting Chinese ambitions in the South China Sea. They reportedly discussed a Visiting Forces Agreement with Japan, similar to the one in place with the U.S., where foreign forces could refuel at Philippine ports, thus extending their range of operations. During his visit the President also compared China to Nazi Germany during WWII.
 Mr. Aquino is the son of former President Corazon Aquino, and Senator Benigno Aquino. He was born on February 8, 1960. He earned a BA in Economics in 1981 and was elected to the House of Representatives in 1998, and then to the Philippine Senate. After the death of his mother he was asked to run for President, accepted, and was elected in 2010.
 An article in the Philippine Star last year ( June 18, 2014) gave a report card for the first part of Mr. Aquino's presidency.
                          Improved
Economy in better shape
Country upgraded for investment
Corruption addressed
Responsible Parenthood law passed
                        Still Need attention
High food prices
High cost of energy
Infrastructure improvement poorly handled
 In the short term, The Philippines also has to give attention to its tourism industry and minerals industry as well as to deal with a domestic insurrection in the south of the country. Mr. Aquino's final year and a half in office looks like it will be as challenging as ever, in particular, the country's ongoing territorial dispute with China which does not look like it will be settled any time soon.