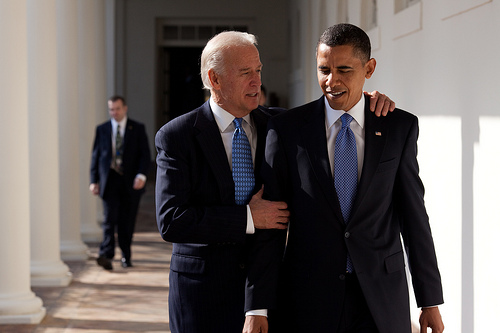 by David Parmer / Tokyo
 Throughout his career Joe Biden has been seen as the straight-talking Average Joe, the man of the people. (For years he took an ordinary Amtrak commuter train from his home in Delaware to his office in Washington.) Senator Biden and now Vice President Biden has often spoken his mind bluntly and frankly, and even mis-spoken. The gregarious Biden is often taken to task for his gaffes and faux pas, causing some to regard him solely as a very likeable Uncle Joe. But style is not the only thing Biden brings to the table. He has wide and varied political and international experience and personal relationships with leaders around the world.
 Joe Biden was born on November 20, 1942 at Scranton, in the heart of Pennsylvania's coal country. In 1955 his family moved to the state of Delaware. He attended the University of Delaware and then went on to obtain a law degree at the University of Syracuse. After setting up a law office in Delaware and working in local politics he ran for the senate from Delaware and won against his Republican opponent. The 29-year-old Biden was one of the youngest senators in U.S. history. He worked on several powerful senate committees including the Foreign Relations Committee and the Senate Judiciary Committee. During his career Senator Biden worked on a variety of important issues including the Strategic Arms Limitation Treaty with Russia, the admission of new NATO partners. With his wide experience he was early on considered a foreign policy expert.
In 1987 Senator Biden entered the race for president, but withdrew after a poor showing at the polls. In 2007, he again made another run for president with similar results. Then Senator Barack Obama asked him to be his running mate, and in 2008 Obama defeated Senator John McCain and was elected president. In 2010 Vice President worked on the New Strategic Arms Reduction Treaty with Russia. In 2012 President Obama and Vice President Biden were re-elected for another 4-year term.
During his time as Vice President Biden has not only advised the president, but used his immense experience and relationships in the Senate to further the Obama agenda. Now, as the Obama presidency winds down, the question is will Joe Biden make a third run at being president?
As of March 2015, he has not said "No." But neither has he said that he is in the race. For the Democrats it depends whether former Secretary of State Hillary Clinton will run or not. It appears that if she does then Biden will stay out of the race. But if she doesn't run, then we might see Joe Biden run for a third time, and maybe just make it this time. Biden has a solid record and experience that not many can match. On the minus side is his age: he is about the same age as Ronald Regan was when he was president. And his straight speaking style might be used against him in the cut and thrust of partisan politics. In a New Yorker piece on Joe Biden by Evan Osnos, President Obama wonders if either Hillary Clinton or Joe Biden want to put themselves through another presidential campaign. At this point the Average Joe is not saying, but it is clear that he and others are watching and waiting as the clock ticks down to 2016.
 Biden Biography White House:
https://www.whitehouse.gov/administration/vice-president-biden
 New Yorker Article: The Biden Agenda
http://www.newyorker.com/magazine/2014/07/28/biden-agenda
Vice President Joe Biden and President Barack Obama (Photo: White House.gov)