by David Parmer
China's Yellow River, the Huang Ho, is also known as The Mother River, and more-tellingly, China's Sorrow. Massive and deadly flooding over the centuries has given it this last name. And it is called the Yellow River because of the color imparted by the Loess soil ( an estimated 1.6 billion tons annually) that it sweeps to the sea.
The Yellow River flows 5,465km from its start in the Bayan Har mountains in Qinghai Province to its terminus where it joins the busy Bohai sea below Beijing. Its route takes it from the Tibet Plateau through the Ordos Desert and the Ordos Loop to the North China plains and then to the sea.
  There are 20 dams along the course of the river, with 18 more planned by 2030. Apparently people have been damming the river since ancient times, often altering the course and causing some of the disastrous floods that history records. The yellow Loess soil is fertile, and supports the cultivation of much of China's cotton and wheat. And historically, the Yellow river at its western end marks the start of the Silk Road, while the lower Yellow River valley is marked as the starting place for Chinese civilization.
Beautiful and powerful, China's Mother River is not without her problems. Periodic flooding is caused by deforestation and the embankment of tributaries for irrigation. It has been estimated that 85% of the river's water is unsafe for drinking. Other estimates say 1/3 of the river is un-useable dew to sewage, industrial chemicals and pesticides.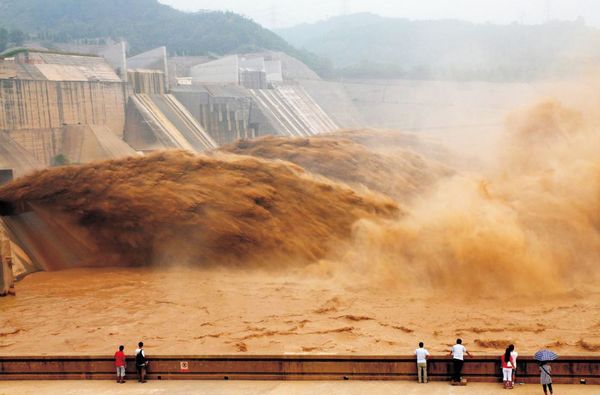 Yellow River Dam Henan (China Daily)
In their paper, "Water Crisis in the Huang Ho (Yellow) River", G. Fu and S. Chen state:
Industrialization, population growth, and other associated human activities along with global warming and the unique water characteristics and arid and semi-arid climate zone of the Yellow River basin have caused a dry up phenomena in the Yellow River basin during the last three decades.
The authors also write about possible countermeasures:
In order for changes to be made several countermeasures have been proposed. These include: water savings, water management, increased regulation, water transfer, and rational and practical groundwater use.
As we have seen in this series, Asian Waters, many of Asia's water resources are at risk, and it is only by wise management and long-terms thinking that these resources like the great Yellow River will be preserved and continue to give their countless gifts to humankind on planet Earth.
Water Crisis in the Huang Ho http://archive.riversymposium.com/2004/index.php?element=Fu+Guobin
Main Photo: Global Water Partnership