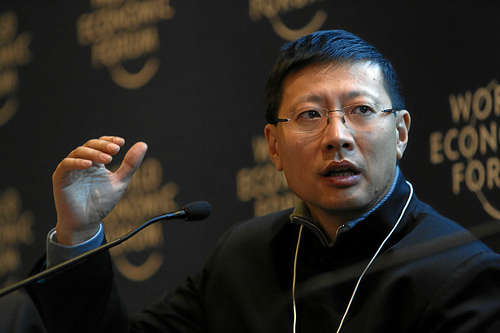 (Photo: World Economic Forum Davos)
                              by David Parmer
Sequoia Capital, founded in 1972 by legendary venture capitalist Don Valentine, is a Menlo Park California company that has funded some of the biggest players in Silicon Valley, including Apple Computer, CISCO Systems, Oracle, Yahoo, Goggle and Zappos. 10% of NASDAQ- traded companies are said to have been Sequoia funded. In 2005 Sequoia opened its doors in China with Neil Shen at the helm as founding and managing partner.
Shen's career has had a steady and upward arc. A graduate of Shanghai's prestigious Jiao Tong University and Yale, he worked in investment banking in New York and Hong Kong for such companies a Deutsche Bank, Chemical Bank Lehman Brothers and Citibank. Shen's solo career began as co-founder of Ctrip , China's largest travel booker, in 1999 which listed on the NASDAQ in 2003. In 2002 he was co-founder of Home Inns, China's largest budget hotel chain which went public in 2006.
Since its founding in 2005, Sequoia Capital China has reported raised more than $USD 3 billion. Unlike venture capital companies in the US, SCC has gone beyond the standard venture areas of tech, media and telecom to include areas like health care and clean tech. Sequoia deals have included LandV, a vegetable producer, Mecox, a mail order business, Great Dreams, an animation studio and 51.com, a social networking concern.