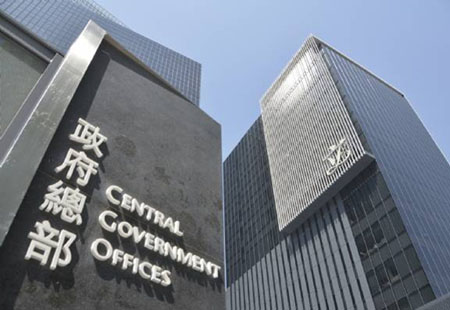 (Photo: Hong Kong Gov.)
In June 2014 an unofficial poll was taken in Hong Kong on universal suffrage by non-governmental political groups.The BBC reported that about 20% of registered voters took part.The question of universal suffrage was raised, and this is directly linked with how the Hong Kong chief executive should be elected. The question of the election of the Chief Executive and universal suffrage are covered in Article 45 of the Basic Law.
Article 45
The Chief Executive of the Hong Kong Special Administrative Region shall be selected by election or through consultations held locally and be appointed by the Central People's Government.
The method for selecting the Chief Executive shall be specified in the light of the actual situation in the Hong Kong Special Administrative Region and in accordance with the principle of gradual and orderly progress. The ultimate aim is the selection of the Chief Executive by universal suffrage upon nomination by a broadly representative nominating committee in accordance with democratic procedures.
 But "the devil is in the details" and there is a fundamental disagreement between independent political groups, pro-Beijing groups and the Hong Kong government. The disagreement has to do mainly with the nominating process for Chief Executive.Those against the government position want universal suffrage and direct nomination of the Chief Executive.
The National People's Congress (NPC) stated its position on the issue on August 31, 2014. The document advocated universal suffrage for the 2017 election and held that the nominating committee should decided on 2-3 candidates to be chosen by popular vote.(Link to document below)  As of March 2015 this position has not changed.  At the same time a referendum on this issue has been proposed by the opposition but vetoed by the Hong Kong government.
In the lead-up to the 2017 election, it looks as if the Beijing government, NPC and Hong Kong government will not budge on this issue. Nor are the various opposition groups likely to give up their demands. It is hard to tell now whether mass protests similar to last year's Occupy Central will take place once schools are on summer holiday, or if more organized anti-demonstration activities will occur. Whatever the case, this issue will remain clearly in focus for the rest of this year and into next year.
The Basic Law, Full Text:
http://www.basiclaw.gov.hk/en/basiclawtext/
NPC on Hong Kong Basic Law, August 31, 2014:
http://news.xinhuanet.com/english/china/2014-08/31/c_133609238.htm